Do You Crochet?
Shirret is Crochet and it rhymes with Hurray!
You can Shirret your old clothes into Luxury
Rugs!
My
Easy
3 minute videos
show you how.
The pictures below have three bars on the right with descriptions.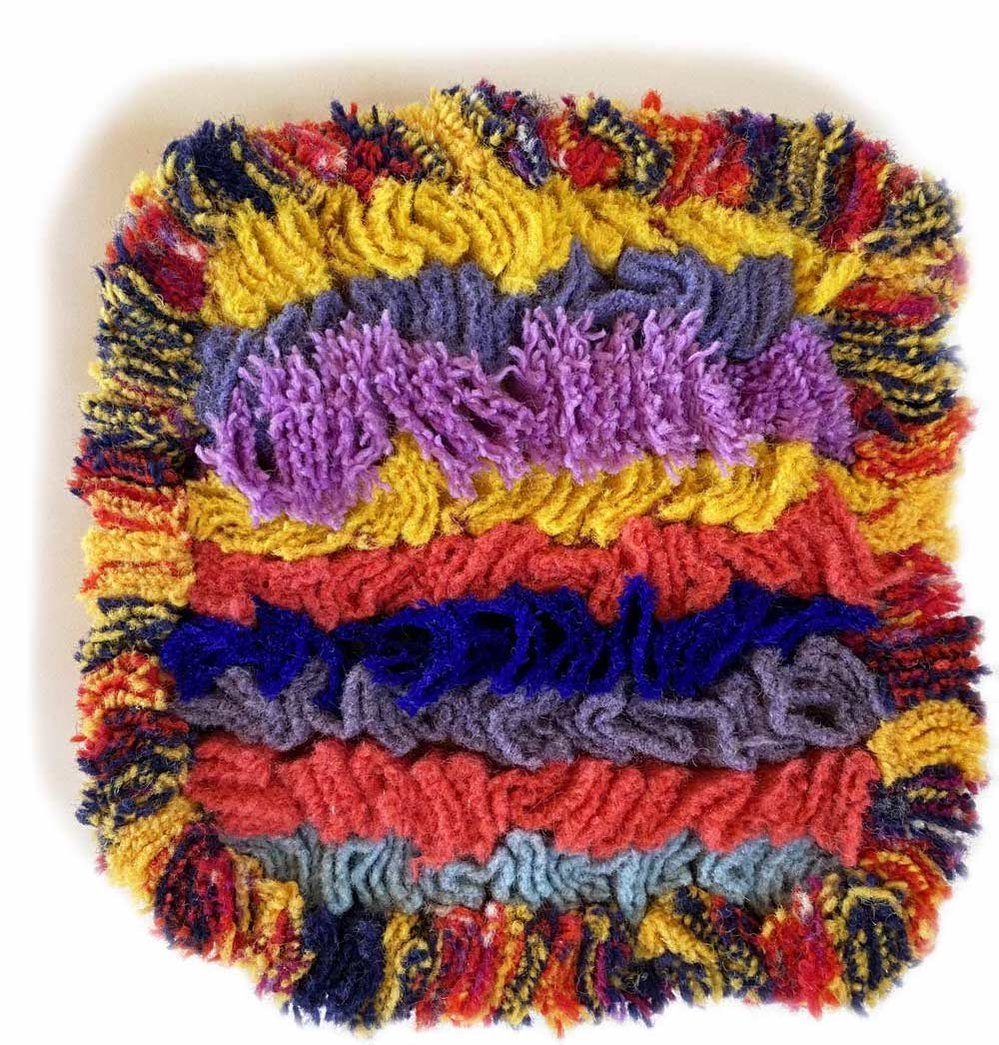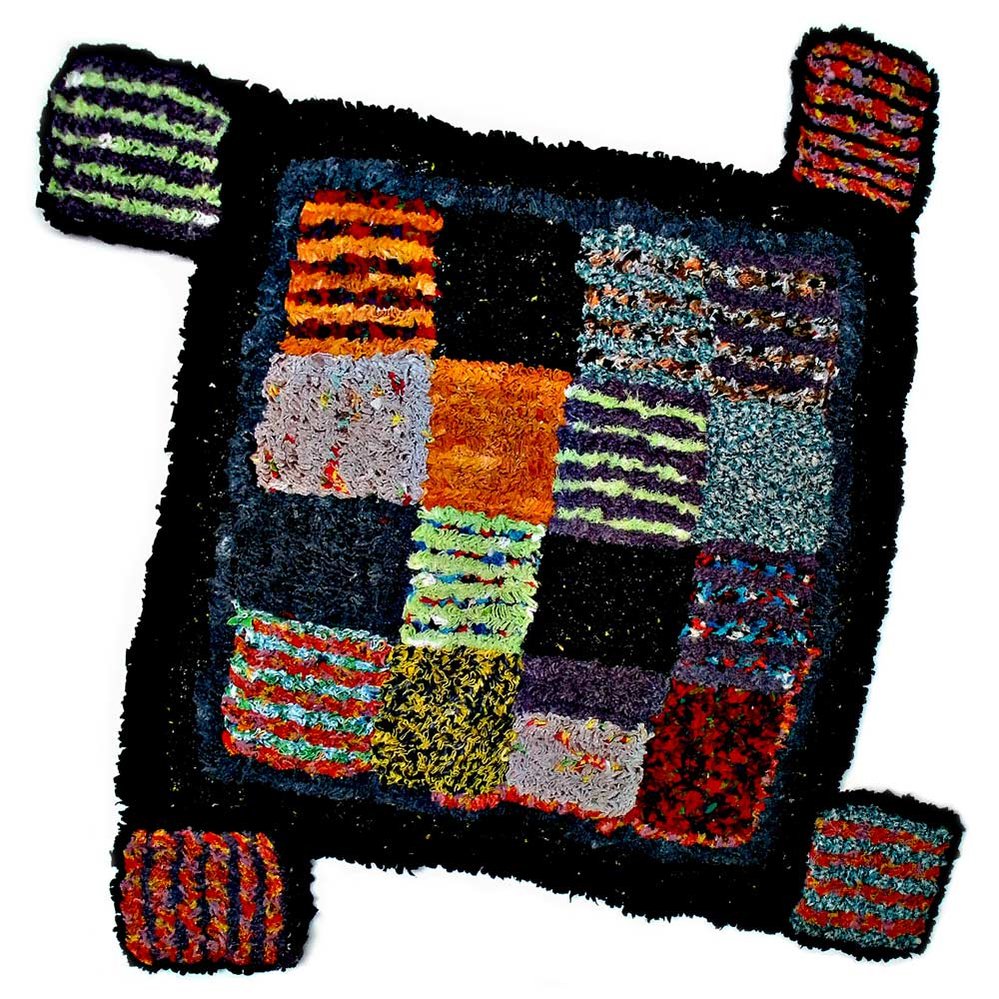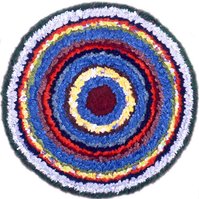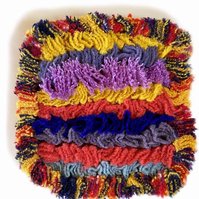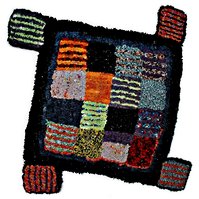 Step 1 - Use my fast fold-and-cut layers method to cut scraps 3/4" wide. . . . . Step 2 - Use the Point on the special long needle to Baste along the middle of a strip, but you're not sewing. . . Step 3 - Use the Hook on the special long needle to crochet a stitch of cord. . . Step 4 - Pull a fold of fabric OVER the hook and ONTO the stitch. . . Voila! You Shirrét™ !
Two Basic Crochet stitches. No fancy ones. My Video Lessons show you Everything!
Learn to CROCHET Online - or Refresh Your Shirret Skills
Shirret first row is an easy Chain Stitch. The rest of the piece is a double crochet stitch. No stopping and starting following hard patterns!
$7.99 for a month. It's easy to sign in and start now.

66,000 People
have learned to Shirrét™ with Louise McCrady's proven techniques and patterns, since 1930 and 1968. Keep your Shirret supplies by the couch near the TV
Use while making!
Shirret looks finished after every row or round. You can cut the string and tuck in the tail, and use this pretty thing Now. And finish it later! PLUS Shirrét™ is reversible, the same on both sides.
Stitch Loose! Relax
No tight stitching. Guess What? We DUNK every shirret in HOT water at the end. The stitches shrink the fabric. Shirrét™ looks professional.
I Love to Crochet.
I love how my thoughts flow as I stitch. I love the rhythm of the stitch. I love how colors fit together. I love to re-purpose fabrics, to recycle, to SAVE the environment.
Two Basic Crochet stitches. No fancy ones. My Video Lessons show you Everything!
Shirret is a special long, thin, needle that you 'baste' fabric strips onto. The needle has a hook for crocheting stitches with strong, soft cotton rug cord. Make a stitch, pull fabric OVER the stitch and off the needle. Repeat. That's the Shirret stitch! It's intuitive.
Shirrét™ is like American QUILTING and RUG HOOKING: Repurposing scraps, Useful Beauty.
Louise taught from 1930 to 1995 and wrote the first six editions of 'The Art of Shirret' starting in 1967. Louise and I both created and wrote Shirret project directions for Family Circle, American Home Crafts, Mademoiselle, Yankee, Rug Hooking magazines, and more.
What's in the videos? Every basic thing, Every advancement. You have a high probability of Shirret success. Shirrét™ is worth learning, for a lifetime of beautiful rugs and decor.
Elevated and Calming Thoughts
You can help your children take tests. Science shows that crossing arms or legs synchronizes both hemispheres of the brain, for problem-solving. When I give myself a little time to sit and Shirret, I am calmed. I am focused in the present moment. I keep Shirret handy by my sofa for any moment I need it.
Create Her-story.
A better, equal version of the word history. As makers and carers, we create meaning and beauty. Our art and passions connect us to each another. We have purpose, we Lean-In, we Make Change. We guide Youngers. We problem-solve. Women's work is structural to family well-being. Our dedication makes us steady in out-of-control times.
Climate. Our Resolve.
Indigenous native peoples and Shinto Japanese revere the land, water, cosmos. Leave the earth as it was before us. Tread lightly passing through. Listen to wind, trees, the birds. Notice animals and their wordless language. Tibetan monks are listening to the earth's core right now.
Listen, to Hear.
Hash out ideas. Argue. Question. An opposite opinion can be surprising. When we listen we have empathy for our neighbor's journey.